StopSign Threat Scanner
· Anti-virus protection
· Spyware protection
· Adware protection

StopSign Computer Protection Service combines a powerful anti-virus scanner with a whole suite of security tools essential in protecting your computer from threats such as viruses, spyware, adware, and hackers.
If you use the internet or email - you need to be concerned about computer security. You can contract a virus by simply visiting the wrong website. Unprotected computers are infested with an average of 26 spyware programs.
StopSign is the solution. StopSign is more than just anti-virus software - it is also a spyware and adware remover. It protects you from infected email and IM attachments by scanning them as you open them. It includes a firewall to keep hackers out of your PC. It also has a popup blocker to keep your internet experience trouble-free.
Key Features: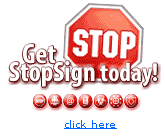 virus and spyware removal
email scanning
unlimited technical support
StopSign is complete security: Powerful anti-virus software with a spyware and adware remover, a firewall, popup blocker, and more.